1. Amazon, for everything. Everything!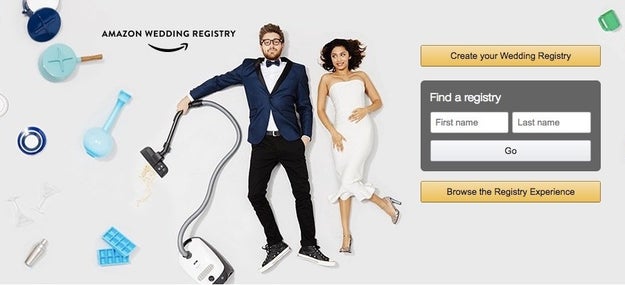 amazon.com
Why it's great: With the world's largest selection of products, you'll (likely) find what you want for your registry. You can shop through specific designer boutiques like Jonathan Adler and MoMA Design Store. Prime members enjoy the usual free, two-day prime shipping and non-Prime members receive free shipping on $49+ registry orders on eligible items. Wedding guests can finance pricier items for up to 24 months through the Amazon Store Card and registrants have a 180-day window to return items.
How it works: Sign up online and add the products you want from Amazon. Then download the Amazon Assistant Google Chrome extension to add items from other websites to your registry.
Stuff we like: 13-inch Morning Star crepe maker ($59.99), 6-quart Instant Pot ($99), Cards Against Humanity ($25), Stanley 65-piece homeowner's tool kit ($41.99), and Oahu double sleeping bag with two pillows ($49.99).
Completion discount: Within a month after your wedding date, you'll receive a one-time registry completion discount. Prime members receive 20% off an order as large as $2,500 and non-prime members receive 10% off an order as large as $1,000. Get details here.
2.

 Wayfair, for cheaper dupes of basically any home-related thing ever.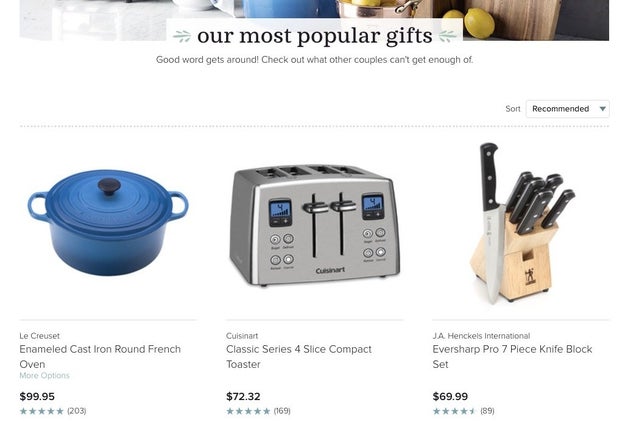 wayfair.com
Why it's great: If you find a home-related item on another site, (besides Amazon, TBH), you'll likely find a dupe on Wayfair for cheaper. The on-trend items come in affordable prices that'll make it easy for everyone to find something to buy on your registry. If you're at a loss for what to add to your registry, use their curated collections as a starting point.
How it works: Sign up online, leave special notes for your guests, and make use of dedicated registry specialists.
Stuff we like: Le Souk Ceramique olive wood candy bowl 6-piece set ($95.99), Pyrex 4-piece prepware measuring cup set ($25.59), Old Dutch copper 6" berry colander ($18.56), Ninja express chop ($25.88), and Lodge 2-piece cast-iron combo set ($43.78).
Completion discount: Create your registry at least 30 days before your wedding date and have at least one item purchased by a guest to receive a registry fulfillment discount. The day after your wedding you'll be eligible for a one-time 10% discount for an order as large as $20,000. Read more details here.
3.

 IKEA, for graduating to "grown-up" staples without selling your firstborn to afford such luxuries.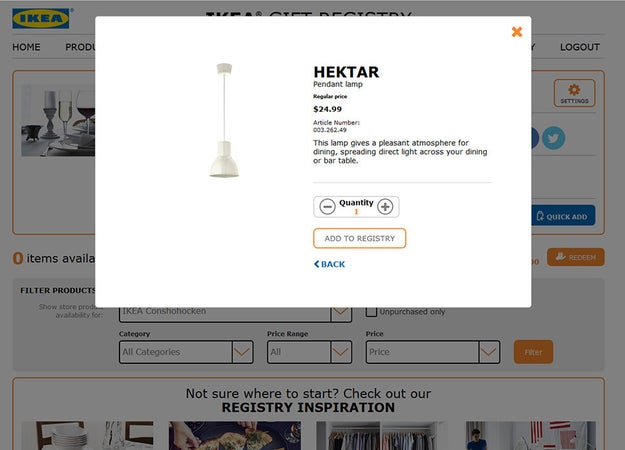 info.ikea-usa.com
Why it's great: The staple apartment bookshelf retailer has lots of "grown-up" things worthy of your marital abode, too. Gift registry (for college, housewarmings, and baby showers, too) launched in February. The possibilities range from big stuff perf for cohabitation to the small stuff your broke-AF friends can afford. Guests can "chip in" with others for buying items more than $50, apply a purchase to a gift card instead of buying a physical item, and buy items in-store or online.
How it works: Download the IKEA Gift Registry app (on iOS or Android or text "Registry" to 62345 to receive link to download), sign up online, or visit a kiosk in store.
Stuff we like: Cabinet shoe organizer ($69.99), roasting pan ($8.99), knife block ($19.99), three-piece knife set ($39.99), and cable-management box ($9.99).
Giveaway: Create a registry by 5/31/17 for a chance to be one of three registrants to win a $1,000 gift card. Get more info here.
4.

 Bed Bath & Beyond, for the everywhere registry that your great-aunt who doesn't like computers will willingly shop.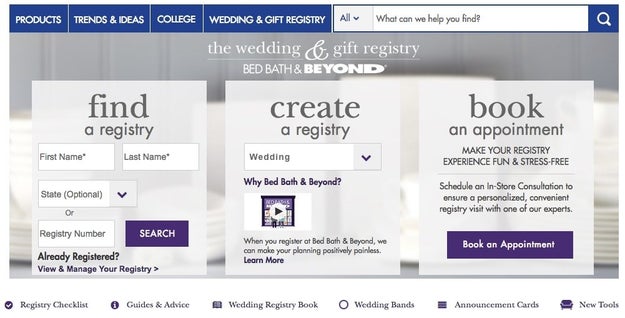 bedbathandbeyond.com
Why it's great: The chain has basically everything for your #dreamhome registry. And because it's a household name (har, har), your distant relative that refuses to enter credit card information online can shop your registry in store. It has lots of wedding registry resources too, like a registry checklist to inform just how many table settings you should ask for (12), free in-store Rock Your Registry events with experts to help you inform your additions, and a selection of invitations and wedding bands.
How it works: Sign up online or book an in-store appointment to get started.
Stuff we like: SodaStream starter kit ($99.99), Lenox French Perle groove mini everything bowls set of three ($9.99), Le Creuset signature Dutch oven ($129.99+), bamboo 21-piece insulated picnic basket ($39.99), and Shark cordless pet perfect II 18-volt handheld vacuum ($59.99).
5.

 Blueprint Registry, for registry inspiration by the room.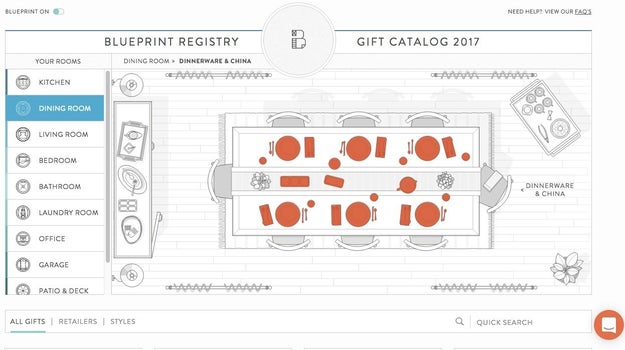 blueprintregistry.com
Why it's great: This site boasts a low cash registry fee of 2.5% and lets you browse items by room (aka blueprint, get it?!). The service can import your existing registries, let you add a product from any store, convert any gift into cash, and create a honeymoon or cash fund. It also keeps tabs on your gift list so you can send thank you notes to all the right people.
How it works: Sign up online, consult with your personal registry concierge, and add items as you please.
Stuff we like: Quilted china storage cases ($62.95+ via Williams-Sonoma), Hoover carpet cleaner steam vac ($131.09 via Amazon), table in a bag ($49.99 via Amazon), Balinese tassel basket ($78+ via Anthropologie), and two-tone martini side table ($99.99 via West Elm).
Completion bonus: You'll receive a completion discount of 10% off items in your registry after your wedding. Get the deets here.
6.

 Williams-Sonoma, for achieving the ultimate in #kitchengoals.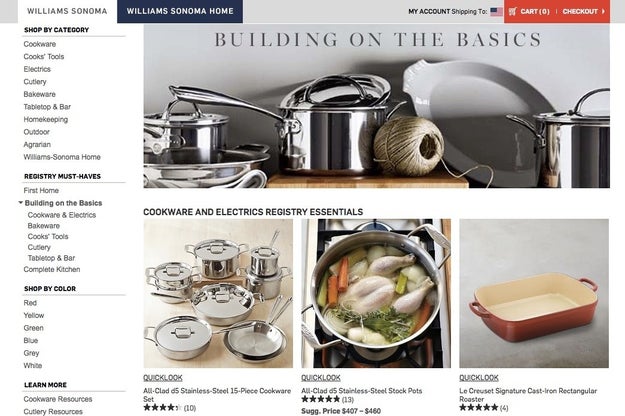 williams-sonoma.com
Why it's great: The store you've been peeking into the windows of for years is kinda the ultimate in wedding registry. Rack up enough qualifying gifts and you'll receive some tantalizing bonus gifts, you can book free in-store private appointments with registry specialists, and visit a store to learn how to use your new gifts if you can't figure out that expensive coffee machine.
How it works: Sign up online or download the app (iOS) and add products to your registry.
Stuff we like: Stainless-steel pastry blender ($10.95), red wine glasses set of 4 ($24), 10-piece glass mixing-bowl set ($39.95), Nordic Wave heritage bundt pan ($36), and Vitamix Pro 750 heritage blender in copper ($599.95).
Completion bonus: After your wedding you'll receive 10% off of all your purchases for six months. (Most registry completion bonuses are one-time only.)
Monthly sweepstakes: Create a registry and you'll be automatically entered for a monthly sweepstakes with a chance to win up to $1,000 of items on your registry. Read the details here.
7.

 Zola, for free shipping on stuff from all your go-to retailers.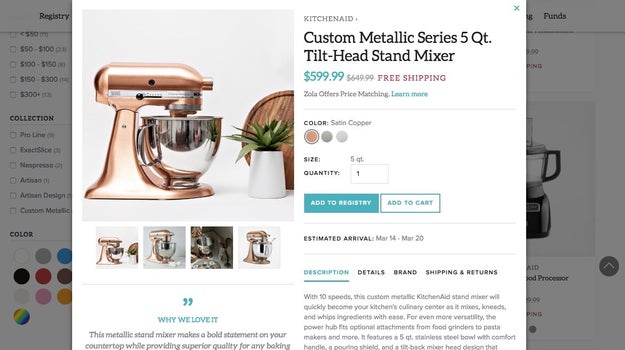 zola.com
Why it's great: This new-blood registry service lets you pick and choose from 450+ registry-fave brands like OXO, Waterford, All-Clad, and Kate Spade New York. Shipping is ~free~ on all orders, you can set up cash funds for honeymoons and other stuff, and you'll receive bonus gifts when wedding guests purchase certain items from your registry.
How it works: Sign up online or download the app (iOS). The app allows you to scan a barcode IRL to add it to your registry, play the Tinder-like Blender to swipe right on desirable wedding gifts, and receive push alerts when someone purchases one of your gifts.
Stuff we like: OXO 8-piece snap glass storage set ($29.99), Waterford champagne flute set of 2 ($70), Kate Spade New York two of a kind "mine" and "yours" wine glass set ($49.99), Coyuchi Mediterranean 6-piece Turkish organic towel set ($147.99), and Sonos PLAY:1 wireless speaker ($199).
Completion bonus: BuzzFeed readers receive $50 to use on Zola.com when you set up your registry and receive $500 in gifts. Read the deets here.
8.

 The Knot, for linking your (free) wedding website and registry in a snap.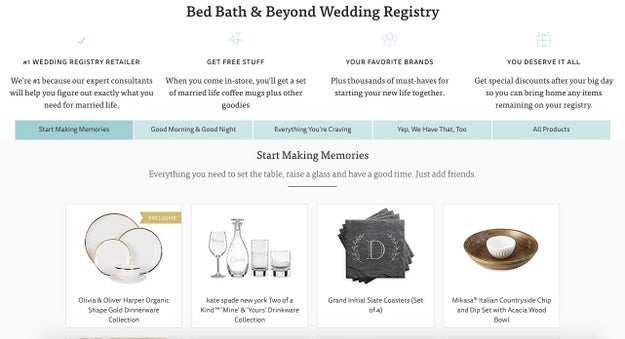 theknot.com
Why it's great: The name you probably recognize from wedding websites makes it easy to link your registry to said wedding website. It also includes a comprehensive registry guide full of gift suggestions, general wedding etiquette, and other useful stuff you're embarrassed to ask out loud.
How it works: Sign up online using the same email address you've used for store registries, (like Sur la Table, West Elm, Target, etc.), and The Knot will link them to your wedding website within 24 hours.
Stuff we like: Personalized grand initial slate coasters set of four ($39.99 via Bed, Bath & Beyond), Corningware 11-piece French white serveware set ($59.99 via Kohl's), YETI tundra 65 cooler ($400 via REI), Nespresso VertuoLine coffee & espresso maker ($129.35 via Wayfair), and Kate Aspen airplane bottle opener ($2.79via Macy's).
9.

 Macy's, for putting your store card and reward points to good use.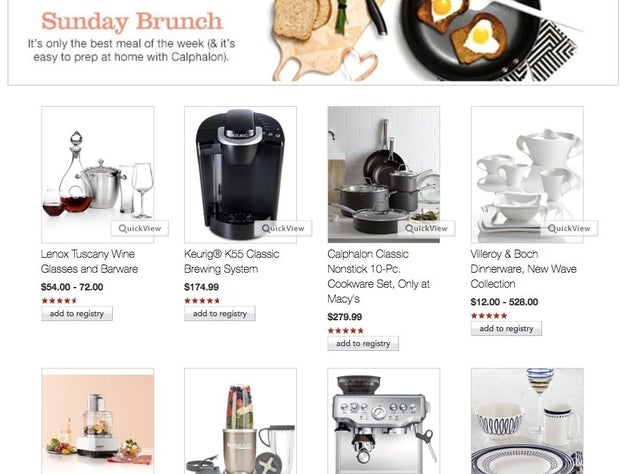 social.macys.com
Why it's great: If you have a Macy's card, you can enroll in Registry Star Rewards, which earns you 10% rewards on every eligible purchase and 5% on every eligible gift you receive. It then adds up to a gift card you can use post-wedding.
How it works: Sign up online or access your in-store registry online.
Stuff we like: Black & Decker double-flip Belgian waffle maker ($79.99), Presto jumbo cool-touch griddle ($39.99), Samsonite spin tech carry-on hardside suitcase ($260+), Nutribullet pro ($149.99), and Martha Stewart Collection figural egg turner ($18.99).
Sweepstakes: Create a registry and enter by 3/31/2017 for a chance to win a $10,000 Macy's gift card with myStylist. Get more info here.
10.

 Domino's, because pizza is a gift from the gods to folks who don't feel like cooking.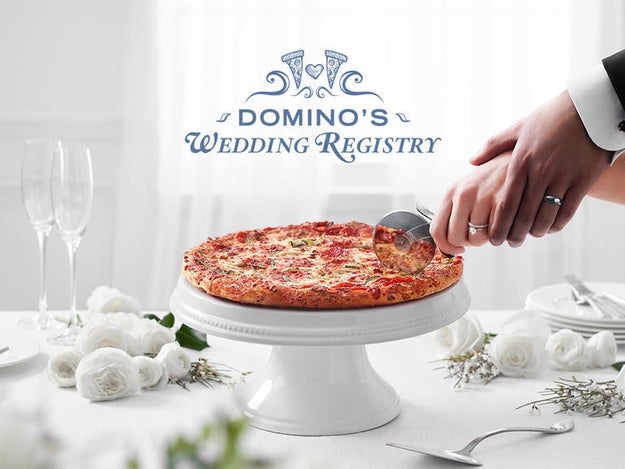 dominosweddingregistry.com
Why it's great: Ain't no shame in this pizza-loving game. The retailer launched a registry website in February with the aim of giving newlyweds a piece of the romantic pie. Yes, it's a marketing stunt. But, it's so crazy it works.
How it works: Sign up online and add package "meals" to your registry. Or, caring loved ones can gift the couple e-cards good for one of the packages.
Stuff we like: Bust out the Fine China ($25), Thank You Card-a-Thon ($30), An Excuse Not to Cook ($20), Low-Key Date Night ($30), and Married But Chill ($15).
Source: Buzzfeed.com
https://www.downtownvegaschapel.com/blog/wp-content/uploads/2017/03/Olson-Keith-9-8-16-JR059-copy.jpg
400
600
Wedding Team
/blog/wp-content/uploads/2017/01/dvc_logo.png
Wedding Team
2017-03-14 13:22:29
2017-03-16 08:17:42
10 Of The Best Places To Set Up Your Wedding Registry