Welcome to the
Downtown Vegas Chapel Blog
https://www.downtownvegaschapel.com/blog/wp-content/uploads/2017/05/Richardson-Rubino-10-23-16-MB-55.jpg
4480
6720
Aimee Stephens
/blog/wp-content/uploads/2017/01/dvc_logo.png
Aimee Stephens
2017-05-25 13:15:18
2017-05-25 13:15:57
Simple Weddings in Las Vegas
Wedding News
Here is a great infographic we picked up from mlic.vegas that has some great resources on it pertaining to getting married in the wonderful LasVegas!  After you pick up your marriage license walk on over to see us at Downtown Vegas Chapel.  We can do the rest for you!  Let us help you say I DO!
/
by Wedding Team
https://www.downtownvegaschapel.com/blog/wp-content/uploads/2017/03/Getting-Married-in-Vegas.png
231
717
Wedding Team
/blog/wp-content/uploads/2017/01/dvc_logo.png
Wedding Team
2017-03-14 13:35:31
2017-05-25 13:14:48
How to Get Married in Las Vegas the Wedding Capital of the World
Wedding News
1. Amazon, for everything. Everything!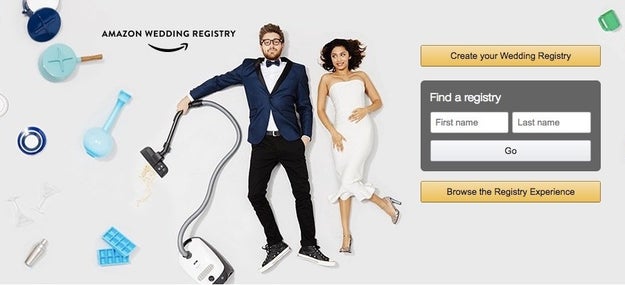 amazon.com
Why it's great: With the world's largest selection of products, you'll (likely) find what you want for your registry. You can shop through specific designer boutiques like Jonathan Adler and MoMA Design Store. Prime members enjoy the usual free, two-day prime shipping and non-Prime members receive free shipping on $49+ registry orders on eligible items. Wedding guests can finance pricier items for up to 24 months through the Amazon Store Card and registrants have a 180-day window to return items.
How it works: Sign up online and add the products you want from Amazon. Then download the Amazon Assistant Google Chrome extension to add items from other websites to your registry.
Stuff we like: 13-inch Morning Star crepe maker ($59.99), 6-quart Instant Pot ($99), Cards Against Humanity ($25), Stanley 65-piece homeowner's tool kit ($41.99), and Oahu double sleeping bag with two pillows ($49.99).
Completion discount: Within a month after your wedding date, you'll receive a one-time registry completion discount. Prime members receive 20% off an order as large as $2,500 and non-prime members receive 10% off an order as large as $1,000. Get details here.
/
by Wedding Team
https://www.downtownvegaschapel.com/blog/wp-content/uploads/2017/03/Olson-Keith-9-8-16-JR059-copy.jpg
400
600
Wedding Team
/blog/wp-content/uploads/2017/01/dvc_logo.png
Wedding Team
2017-03-14 13:22:29
2017-03-16 08:17:42
10 Of The Best Places To Set Up Your Wedding Registry